Clear Capital, LLC Acquires 104 – Unit Multifamily Property in Phoenix, AZ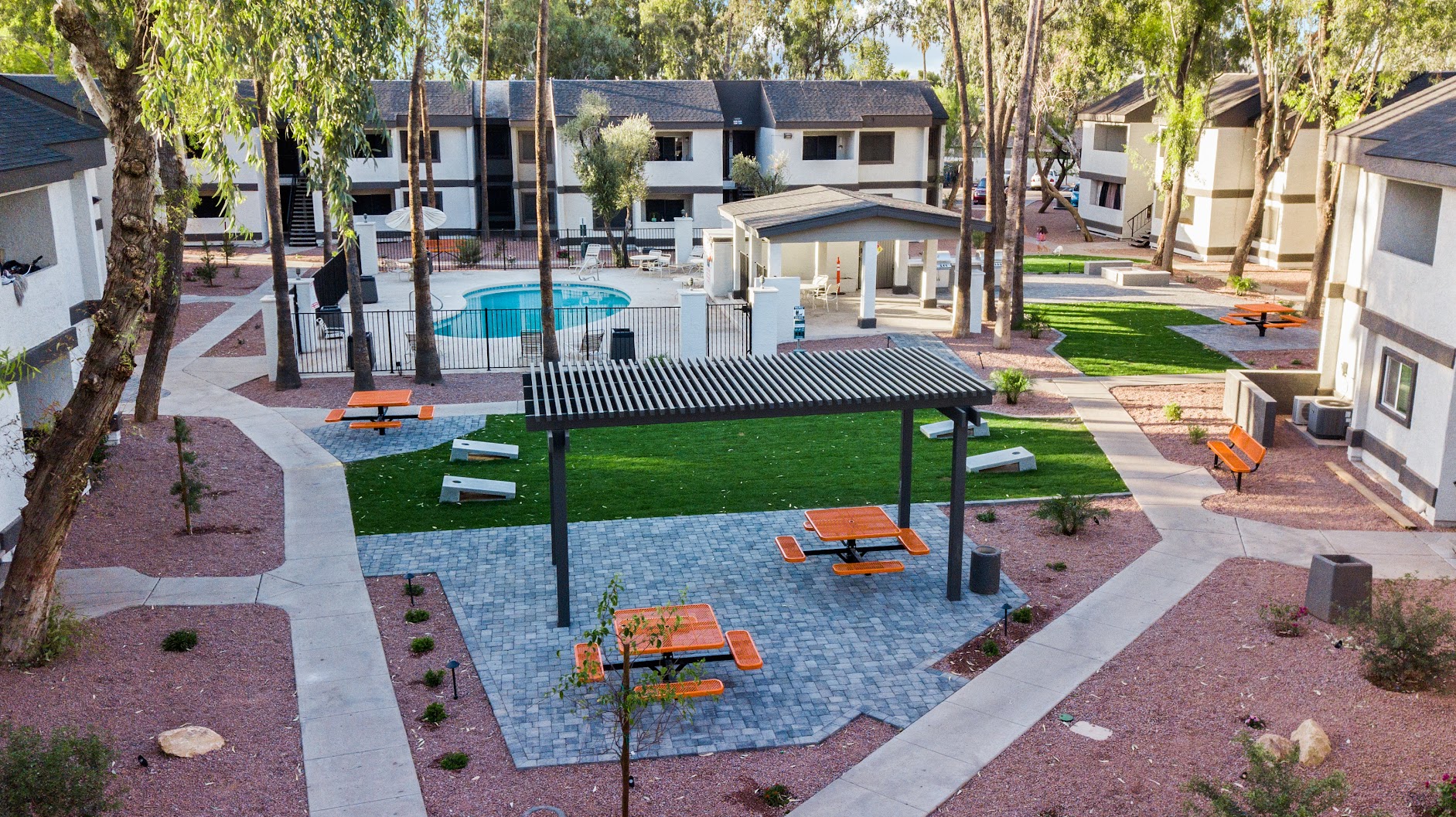 Clear Capital, LLC
FOUNDED: 2010
HEADQUARTERS: Irvine, Los Angeles
FOUNDERS: Eric Sussman, Greg Worchell, Daniel Hardy, Paul Pellizzon
BUSINESS: Multifamily Real Estate
RECENT ACQUISITION: 104-Unit Value-Add Apartment Community in Phoenix, AZ
IRVINE, CA, April 28, 2022 – Clear Capital, LLC, an Irvine-based private equity real estate investment firm specializing in multi-housing asset investments, announces the acquisition of Haven on Thomas, a 104–unit multifamily property in Phoenix, AZ. The asset is located in Phoenix's West Valley and is less than 5 miles from Clear Capital's first Arizona investment, Aspire Glendale. Haven on Thomas will be re-branded Aspire Desert West upon takeover.
Constructed in 1982, Haven on Thomas is situated on 4.38 acres at 6041 West Thomas Road in Phoenix, AZ. The community has a desirable unit mix of studio, one- and two-bedroom apartments with patios or balconies, catering to a broad resident demographic. The community's amenities such as an updated pool, BBQ and social areas, playground, new leasing office, and ample community seating areas make for a comfortable living experience. Upon takeover, Clear Capital plans to update the community landscaping, upgrade the playground, and onboard a new property management team to enhance property revenues through hands-on asset management. The asset was acquired fully renovated with updated amenities, upgraded security fencing, and newly renovated units complete with stainless steel appliances, granite countertops, new bright white cabinetry, smooth plank flooring, new fixtures, and in-unit washers and dryers.
"We're thrilled to have acquired this newly renovated turn-key property on a completely off-market basis," said Enrique Huerta, Clear Capital's Vice President of Acquisitions. "This transaction represents the firm's second acquisition in Phoenix, and the third in the state of Arizona with several more assets slated to close in the coming quarter. Many investors would have dismissed this investment opportunity given its fully renovated nature, but our team saw the clear upside as demonstrated by the low in-place rents, sub-60% occupancy at the time of offer, and the phenomenal property condition. We were able to move quickly to acquire this asset off market in one of the US' hottest rental housing markets," added Mr. Huerta.
This purchase marks Clear Capital's 32nd investment in the United States. Clear Capital's recent acquisition highlights the company's investment strategy of purchasing value-add opportunities with strong cash flow and significant location and operational upside in high barrier-to-entry markets. This investment aims at providing investors a current cash yield with a double-digit levered IRR over a 3- to 5-Year hold period. "Clear Capital continues to demonstrate its commitment to improving Arizona's housing stock and we remain bullish on Phoenix as an emerging growth market" stated Eric Sussman, a founding partner at Clear Capital. "Off-market investments are highly coveted in today's market environment and our team has the reputation, relationships, and track record to identify and quickly acquire high-quality assets."
Aspire Desert West is ideally located, adjacent to a major thoroughfare. The property benefits from solid drive-by visibility and is located within 4 miles of the area's most iconic retail and dining destinations, giving residents direct access to the Phoenix marketplace and Los Altos Market. The property is located within proximity to Interstate-10, the Loop 202 and I-17 Freeways. Aspire Desert West is within 15 minutes from Grand Canyon University and Westgate Entertainment District and within a 10-minute drive to Ak-Chin Pavilion, Milwaukee Brewers spring training facility, ample shopping centers and dining, as well as golf courses and sports parks. In addition, public transportation is located within 6 miles from the property and the Phoenix Sky Harbor International Airport, Phoenix College, and Glendale Community College are a 15-minute drive from the property.
Phoenix serves as the capital city of Arizona, and it is the fifth most populous city in the U.S and the most populous city in Arizona. Not only is the cost of living in Phoenix 5% lower than the national average, but the property taxes are also lower than other large retirement destinations. Phoenix Ranked #2 among the best labor markets in the U.S. The state is a hub for the fast-growing technology industry. Five Fortune 500 companies are headquartered in Phoenix as well as top companies in the country such as Amazon, Shutterfly and Uber. Phoenix is an ideal location for launching startups, budding entrepreneurs, and small, local businesses. The current unemployment rate is 3.2% lower than the national average and the average base pay is $70,000. Phoenix was ranked #55 on the annual World's Best Cities report and #13 on America's Best Cities.
About Clear Capital
Clear Capital is a West Coast-based private equity real estate investment firm specializing in multi-housing real estate investments. The firm focuses on the acquisition, renovation, repositioning, and management of multifamily affordable and workforce housing assets throughout the Western, Mountain, and Sunbelt regions of the United States. Clear Capital currently owns and operates a diverse portfolio of multifamily housing assets with over 4,000 units valued at over $900M in 6 states across the risk spectrum from Value-Add to Core. Clear Capital's distinctive approach to investing in real assets has consistently produced above-average risk-adjusted returns for its private and institutional investors.
For more information or to make an investment, please visit clearcapllc.com. Follow us on LinkedIn and Facebook for the latest company developments.
Contact:
Tania Kapoor Mirchandani
Vice President Capital Markets
(323) 642 – 9632