Clear Capital, LLC Acquires 152 – Unit Multifamily Property in Glendale, AZ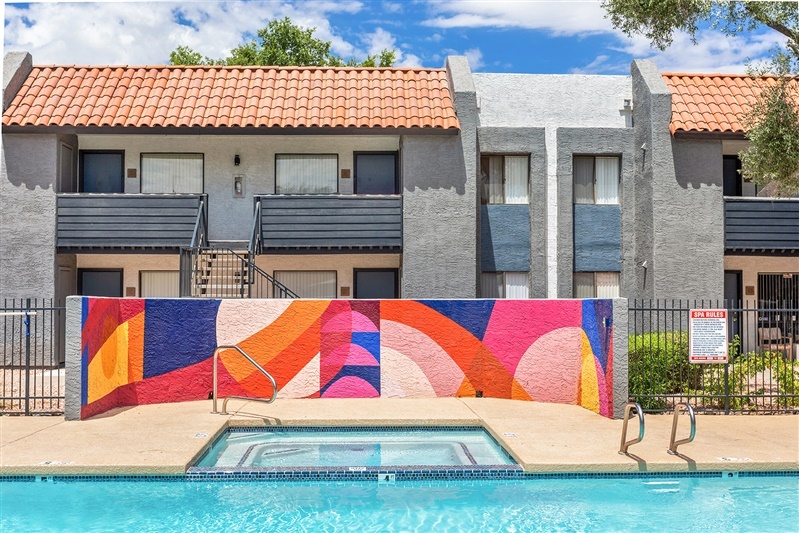 Clear Capital, LLC
FOUNDED: 2010
HEADQUARTERS: Irvine, Los Angeles
FOUNDERS: Eric Sussman, Greg Worchell, Daniel Hardy, Paul Pellizzon
BUSINESS: Multifamily Real Estate
RECENT ACQUISITION: 152-Unit Value-Add Apartment Community in Glendale, AZ
IRVINE, CA, May 12, 2022 – Clear Capital, LLC, a West Coast-based private equity investment firm specializing in multi-housing real estate investments, announces the acquisition of The Parker, a 152 – unit multifamily apartment community in Glendale, AZ. The asset is well-located about 9 miles northwest of Phoenix, less than 6 miles from Clear Capital's 1st Arizona investment, Aspire Glendale, and 10 miles from Clear Capital's 3rd Arizona investment, Aspire Desert West. The Parker will be re-branded "Aspire Thunderbird" upon takeover.

Constructed in 1984, Aspire Thunderbird is situated on 5.07 acres at 5150 West Eugie Avenue in Glendale, AZ. The community has a desirable unit mix of one- and two-bedroom apartments catering to a broad resident demographic. The community's amenities feature an updated swimming pool, spa, fitness center, BBQ and social areas, large leasing office, ramada, and ample community seating areas offering residents a comfortable living experience. With 120 partially renovated units, Clear Capital plans to fully renovate the remaining 32 classic units and further update the 120 previously remodeled units. The interior renovation scope will include a full remodel of the kitchen with stainless steel appliances, Formica countertops, tile backsplash, updated cabinet fronts, hardware, and new lighting and plumbing fixtures. The bathroom upgrades will match the kitchen's modern look, and additional upgrades include faux wood-style flooring, new baseboards, new trim, and new hardware. Upon takeover, Clear Capital plans to update the community's signage, landscaping, and marketing window; further enhancements include concrete repairs and fresh exterior paint.

"We're excited to continue expanding our investment portfolio in Glendale, Arizona," said Enrique Huerta, Clear Capital's Vice President of Acquisitions. "This asset is exceptionally well-located and was institutionally owned and managed, so we are acquiring a well-maintained community with solid value-add upside. The property's location, physical characteristics, and capital expenditure needs perfectly fit our firm's investment criteria, and we look forward to executing our business plan at this site."
This purchase marks Clear Capital's 33rd investment in the United States and 4th in Arizona with several more local closings slated to occur in the coming month. Clear Capital's recent acquisition highlights the company's investment strategy of purchasing value-add opportunities with solid cash flow, stable locations, and operational upside in high barrier-to-entry markets.

Aspire Thunderbird is a 1031-exchange investment opportunity offered exclusively to Clear Capital's current clients. "We remain committed to serving our clients through excellent investment opportunities that help them preserve and grow their wealth tax-efficiently," stated Eric Sussman, a founding partner at Clear Capital. "We remain bullish on the Phoenix region, and Glendale in particular, due to the strong market fundamentals of robust population and job growth, relative affordability, and diverse employment. This acquisition highlights our success in securing solid investment opportunities and serving our clients at the highest level," added Mr. Sussman.
Aspire Thunderbird is adjacent to a major thoroughfare. The property benefits from solid drive-by visibility and is located within 6 miles of the area's most iconic retail and dining destinations, famous events, and activities, giving residents direct access to the historic downtown Glendale and Glendale Market Square. Residents also enjoy direct access to all areas of the Phoenix Valley by way of the nearby Black Canyon Freeway (Interstate 17), the Agua Fria Freeway (Loop 101), and Grand Avenue (Highway 60). In addition, the property is within proximity to the Westgate Sports and Entertainment Districts, encompassing the Gila River Area, the State Farm Stadium, and the 225-acre Westgate City Center mixed-use development.

Glendale is considered part of the Greater Phoenix area; it is the hub of what many people refer to as the West Valley. Over the past two decades, it has been one of the fastest-growing cities in the nation and is Arizona's 5th largest city. Glendale's cost of living is 7% lower than the national average and 3% lower than the state of Arizona, and the property taxes are lower than both the state and federal average. Glendale's job market has started to see much promise; some major employers include Banner Health Systems, Humana Healthcare, and Arrowhead mall. Additionally, for those who don't mind a 20-minute commute, Phoenix, ranked #2 among the best labor markets in the U.S, offers more job opportunities for Glendale residents. In addition, the Glendale school district has 18 elementary schools and nine high schools, and high-ranking universities such as Arizona State University, Thunderbird School of Global Management, and Glendale Community College. The city ranks #4 in the towns with the highest average sunshine and has a livability score of 72, emphasizing the excellent quality of life the city provides.

About Clear Capital

Clear Capital is a West Coast-based private equity investment firm specializing in multi-housing real estate investments. The firm focuses on acquiring, renovating, repositioning, and managing multifamily housing assets throughout the Western, Mountain, and Sunbelt regions of the United States. Clear Capital owns and operates a diverse portfolio of multifamily communities with over 4,700 units valued at over $1B in 6 states across the risk spectrum from Value-Add to Core. Clear Capital's distinctive approach to investing in real assets has consistently produced above-average risk-adjusted returns for its private and institutional investors.

For more information or to invest, please visit www.ClearCapLLC.com. Follow us on LinkedIn and Facebook for the latest company developments.

Contact:
Tania Kapoor Mirchandani
Vice President Capital Markets
(323) 642 – 9632