Clear Capital, LLC Acquires 97-Unit Multifamily Property in Mesa, AZ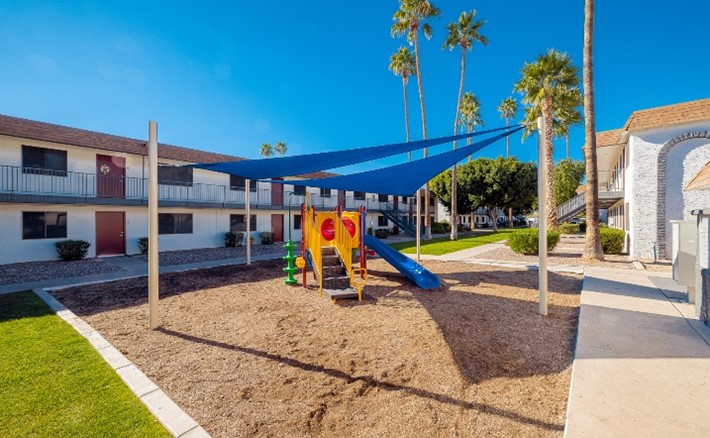 Clear Capital, LLC
FOUNDED: 2010
HEADQUARTERS: Irvine, Los Angeles
FOUNDERS: Eric Sussman, Greg Worchell, Daniel Hardy, Paul Pellizzon
BUSINESS: Multifamily Real Estate
RECENT ACQUISITION: 97-Unit Value-Add Apartment Community in Mesa, AZ
IRVINE, CA, May 16, 2022 – Clear Capital, LLC, a West Coast-based private equity investment firm specializing in multi-housing real estate, announces the acquisition of The Vine Apartments, a 97-unit multifamily apartment community in Mesa, AZ. This asset is Clear Capital's 5th investment in Arizona. The Vine apartments will be rebranded "Aspire Mesa" upon takeover.

Constructed in 1971, Aspire Mesa is situated on 3.58 acres at 1248 S. Vineyard in Mesa, AZ. The community has a desirable unit mix of one-, two- and three-bedroom apartment homes catering to a broad resident demographic. The community's amenities feature a resident clubhouse with a designer kitchen and dedicated leasing office, a sparkling swimming pool and hot tub, a newly shaded children's playground, spacious grass courtyards with mature shade trees, covered parking, and on-site laundry facilities, offering residents a comfortable living experience.

With 38 renovated units, Clear Capital plans to renovate the remaining 59 classic units fully and further update the 34 previously remodeled units. The interior renovation scope will include upgraded wood-style flooring, stone countertops, under-mount sinks, stainless steel appliances, modern cabinet fronts and hardware, two-tone paint, and new lighting and plumbing fixtures. The bathroom upgrades will match the kitchen's stylish look. Additional upgrades include new baseboards, new trim, new hardware, and in-unit laundry appliances. Upon takeover, Clear Capital plans to update the sewer lines, perform electrical upgrades, and enhance the marketing window with new signage and landscaping; further enhancements will include fresh exterior paint and LED lighting.

"We are thrilled to have acquired another compelling off-market investment opportunity in an emerging submarket within the Phoenix MSA," said Enrique Huerta, Clear Capital's Vice President of Acquisitions. "Mesa has been growing and redeveloping rapidly, and this acquisition is a stone's throw away from all of the action at the Fiesta Park Village redevelopment. Additionally, it is near the Superstition freeway providing all of the community's residents with convenient access to local employment, entertainment, and other amenities within Mesa and the surrounding Phoenix region."
This purchase marks Clear Capital's 1st investment in Mesa and 33rd in the United States, with one more closing slated to occur in Arizona in the coming months. Clear Capital's recent acquisition highlights the company's investment strategy of purchasing value-add opportunities in stable locations with operational upside in high barrier-to-entry markets.
Aspire Mesa is a 1031-exchange investment opportunity offered exclusively to Clear Capital's current clients. "Clear Capital is committed to providing its clients with compelling investment opportunities that preserve and grow their wealth in a tax-efficient manner," said Eric Sussman, a founding partner at Clear Capital. "This recent acquisition is a testament to our ability to help investors in unique situations best allocate their investment capital. We remain bullish on the Phoenix metro due to the strong market fundamentals. We're excited to further diversify our growing portfolio by acquiring this asset in Phoenix's East Valley, specifically Mesa, AZ," added Mr. Sussman.

Aspire Mesa is located along U.S. Route 60, providing residents convenient access to the southeast valley's employment hubs. Residents have immediate access to the entire East Valley and quick commutes into Phoenix and Scottsdale. With nearby connections to the Loop 101, I-10, and Loop 202 Freeways, residents benefit from a high level of mobility to the east valley's highly diversified employment hubs and broad lifestyle landscape. The property is also within a 13-minute drive from Arizona State University, Downtown Mesa, North Tempe, and the Fiesta District. Capturing over 66,000 workplace establishments and 1.5 million employees within a 30-minute drive, Aspire Mesa is well-positioned to command long-term demand as a viable housing option in the East Valley. In addition, Southwest Mesa residents have access to an abundance of local shopping, dining, and entertainment options throughout the entire neighborhood, including over 2 million square feet of restaurants and shopping along Southern Avenue.

Mesa is considered part of the Greater Phoenix area; it is the hub of what many people refer to as the East Valley. Mesa was ranked as the #12 best city to retire in the U.S. due to its low cost of living; it is 7% lower than the national average, but housing expenses are 10% cheaper, and utility prices are 4% lower. In addition, the property taxes are lower than both the state and federal average. Mesa's job market is starting to see much promise; it is 3.3% over the last year, and future job growth over the next ten years is predicted to be 47.1%, higher than the U.S. average of 33.5%. Major employers include the ASU Research Center, the Banner Desert Medical Center, the Fiesta District, downtown Mesa, and North Tempe. For those who don't mind a 25-minute commute, Phoenix, ranked #2 among the best labor markets in the U.S., offers more job opportunities for Mesa residents. In addition, Mesa is a highly rated public school district, home to 36 colleges, including 26 private colleges and universities. Some high-ranking universities include Arizona State University, Mesa Community College, and Arizona College.

About Clear Capital

Clear Capital is a West Coast-based private equity investment firm specializing in multi-housing real estate. The firm focuses on acquiring, renovating, repositioning, and managing multifamily housing assets throughout the Western, Mountain, and Sunbelt regions of the United States. Clear Capital owns and operates a diverse portfolio of multifamily communities with over 4,000 units approaching nearly $1 billion in value in 6 states. Clear Capital's distinctive approach to investing in real assets has consistently produced above-average risk-adjusted returns for its investors.
For more information or to invest, please visit www.ClearCapLLC.com. Follow us on LinkedIn and Facebook for the latest company developments.

Contact:
Tania Kapoor Mirchandani
Vice President Capital Markets
(323) 642 – 9632