Clear Capital LLC Announces Sale of Monterey Station, a 349-Unit Apartment Community Located in Pomona, California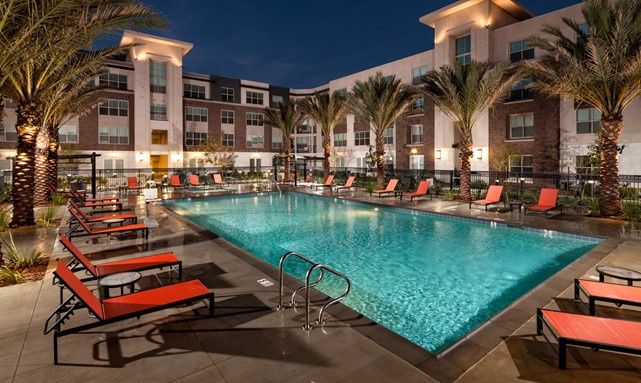 Clear Capital, LLC
FOUNDED: 1996
HEADQUARTERS: Irvine, Los Angeles
FOUNDERS: Eric Sussman, Greg Worchell, Daniel Hardy, Paul Pellizzon
BUSINESS: Multifamily Real Estate
RECENT DISPOSITION: 349 - Apartment Community in Pomona, CA
Clear Capital, LLC, a Los Angeles-based private equity real estate firm specializing in owning and operating multifamily communities, is pleased to announce the sale of Monterey Station. The property sold for $130 million, commanding $372,493 per unit. A four-story on-grade development with 349 units, the community was built in 2014 and is located at 180 E Monterey Avenue in Pomona, California. Clear Capital purchased the property in February 2017 for $84.5 million ($242,120 per unit).
Using its established value-added model for property enhancement, Clear Capital was able to sell this property for 54% over the purchase price, in part by adding enhanced security with new auto and pedestrian gates, security cameras and lighting in common areas. Upgrades were made to the mail system and the BBQ area, and a state-of-the-art dog park was recently completed.
Greg Worchell, one of Clear Capital's Managing Partners, is thrilled to provide such an excellent return to Monterey's investors, stating, "I am very pleased we were once again able to execute our business plan and reach our investment goals for this property ahead of schedule. We are excited to give our investors this great outcome and build upon our track record of providing strong returns." All Monterey Station investors are being offered the opportunity to exchange their returns into other Clear Capital investment opportunities and defer capital gains taxes.
Clear Capital offers accredited investors access to private real estate investments with a minimum of $25,000. With a track record of 5,000+ units, $950M+ in assets, and more than 100 years of combined real estate experience, Clear Capital is an excellent partner for private real estate investments.
About Clear Capital:
Clear Capital, LLC is a Los-Angeles based private equity real estate investment firm specializing in multifamily real estate investments. The firm focuses on the acquisition, renovation, repositioning, and management of multifamily housing assets throughout the Western, Mountain, and Sunbelt regions of the United States. Clear Capital currently owns and operates a diverse portfolio of multifamily assets with over 5,000 units across the risk spectrum from Value-Add to Core. Clear Capital's distinctive approach to investing in real assets has consistently produced above-average risk-adjusted returns for its private and institutional investors. For more information, visit www.ClearCapLLC.com
For more information or to make an investment, please visit clearcapllc.com. Follow Clear Capital on LinkedIn and Facebook for our latest developments.
Contact:
Tania Kapoor Mirchandani
Vice President Capital Markets
[email protected] / (323) 642-9632