Clear Capital, LLC Enters Sacramento Market with Acquisition of Off-Market 204 – Unit Multifamily Community for $48 Million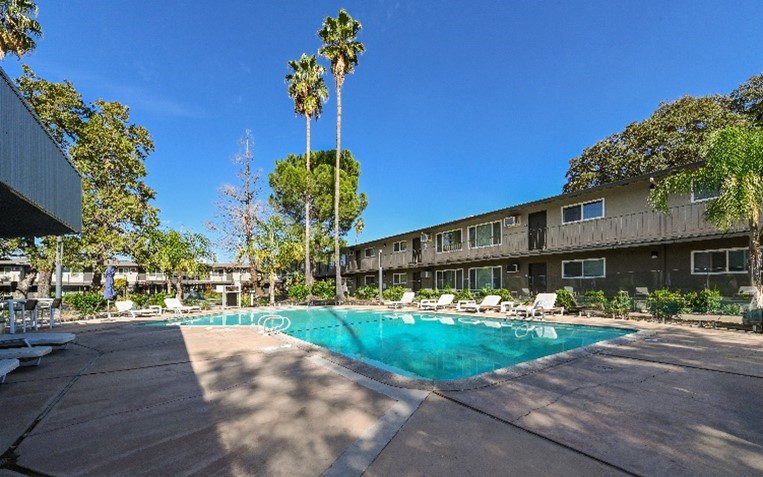 Clear Capital, LLC
FOUNDED: 1996
HEADQUARTERS: Irvine, Los Angeles
FOUNDERS: Eric Sussman, Greg Worchell, Daniel Hardy, Paul Pellizzon
BUSINESS: Multifamily Real Estate
RECENT ACQUISITION: 204 -Unit Value-Add Apartment Community in Sacramento, CA
IRVINE, CA, January 5th, 2022 – Clear Capital, LLC an Irvine-based private equity real estate investment firm specializing in multifamily investments, announces the acquisition of The Retro Apartments, a 204 – unit, multifamily property in Sacramento, CA. The asset is located 5.5 miles from downtown Sacramento and will be re-branded "Aspire Sacramento" upon takeover.
Constructed in 1963, Aspire Sacramento is situated on 6.37 acres at 2500 Fair Oaks Blvd in Sacramento, CA. The community has a desirable unit mix of studios, one-bedroom, and two-bedroom apartment homes, attracting a wide range of residents from various demographics. The community's amenities such as two resort-style pools, a resident clubhouse, updated BBQ areas, and ample outdoor social areas make for a modern living experience. With 70 of the units recently renovated, Clear Capital plans to continue renovations on the remaining 134 classic units. The interior renovation scope will include a modern kitchen design with new cabinet faces and hardware, granite countertops, new stainless-steel appliances, new lighting fixtures, new plumbing hardware, and in-unit laundry appliances in select units. The upgrades will also include a newly renovated bathroom, two-tone paint, and vinyl faux wood flooring throughout the apartment home. Clear Capital also plans to finish minor landscaping upgrades, rebrand the asset, and further enhance the marketing window.
"We are thrilled to enter the Sacramento, CA housing market with this off-market acquisition of a proven, value-add investment opportunity in one of the city's best submarkets," stated Enrique Huerta, Clear Capital's Vice President of Acquisitions. "The asset's prime location is walkable to highly coveted dining and retail destinations such as Loehmann's Plaza and The UV, and the community provides a modern living experience at an attractive price point to the growing population of young, affluent renters."
This purchase marks Clear Capital's 30th multifamily investment. This acquisition highlights the company's investment strategy of purchasing value-add opportunities with strong cash flow, significant location, and operational upside in high barrier-to-entry markets. This investment aims at providing investors a current cash yield with a double-digit levered IRR over a 5-Year hold period.
"This acquisition checks every single box for us," added Eric Sussman, a founding partner at Clear Capital. "The opportunity came to our team off-market, well-maintained, and with very clear upside through a combination of cosmetic renovations, hands-on asset management, and a compelling location with limited housing stock. We have had our eyes on the Sacramento market for several years now and we felt that this acquisition offered compelling value for a California property investment given the historically low cap rates across the entire United States."
Aspire Sacramento is ideally located, adjacent to a major thoroughfare. The property benefits from drive-by visibility and is located within a mile of the area's most iconic retail and dining destinations, giving residents direct access to Loehmann's Plaza, Pavilions, and The UV. With convenient access to Interstate 50, Aspire Sacramento is within 15 minutes of nearly 100,000 jobs in downtown Sacramento's Central Business District. In addition, it is a 5-minute drive to Sacramento State University which consists of 31,000 students, an 8–15-minute drive to over 10 parks, a 10-minute drive to 5 retail centers, and an 8-minute drive to Costco and Walmart.
Sacramento serves as the capital city of California as well as the commercial, residential, and cultural core of the Sacramento Metropolitan area. With a population growth of 10% over the last decade, and an expected growth of 6% by 2026, Sacramento is ranked #3 amongst the most popular places for millennials to move in the U.S, #5 amongst U.S cities with the fastest growth in tech jobs and #1 in the world for agricultural and veterinary sciences. It is the 8th largest county and was the fastest growing city in California, back in 2017. It was also ranked 28th fastest growing city in the country. Residents are drawn to the city for its high-quality schools, wide ranging job opportunities, local amenities, and access to regional attractions such as Lake Tahoe, Yosemite, and Napa Valley.
About Clear Capital
Clear Capital, LLC is an Irvine-based private equity real estate investment firm specializing in multifamily real estate investments. The firm focuses on the acquisition, renovation, repositioning, and management of multifamily housing assets throughout the Western, Mountain, and Sunbelt regions of the United States. Clear Capital currently owns and operates a diverse portfolio of multifamily assets with over 5,000 units across the risk spectrum from Value-Add to Core. Clear Capital's distinctive approach to investing in real assets has consistently produced above-average risk-adjusted returns for its private and institutional investors. For more information, visit www.ClearCapLLC.com
Follow us on LinkedIn and Facebook for the latest company developments.
Contact:
Tania Kapoor Mirchandani
Vice President Capital Markets
[email protected] / (323) 642 – 9632